2018 Festival Sculpture: Vivid Emergence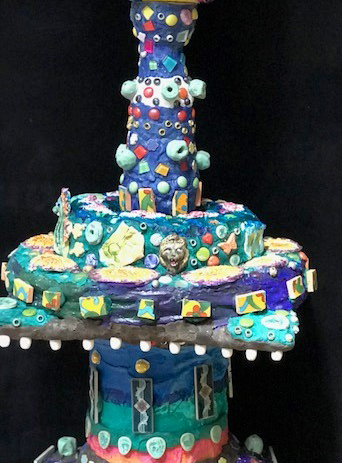 Meet the sculptor @ 4:00 pm in the Metuchen Savings Bank Courtyard on Main Street
Susanne Pitak Davis is a Lambertville-based artist and art therapist known for her colorful, imaginative sculptures. Her art is generated from "the stuff of fairy tales" and mythology and, in that way, is both personal and universal. The METFEST sculpture, "Vivid Emergence," draws on the mythic theme of rebirth but presents it in a whimsical, playful manner. The bright colors and mosaic pieces give it an energetic and creative vitality that is embodied in the town it represents.
The sculpture is approximately 8 feet tall and is built over an armature using a cement mix together with colored epoxy clay. The mosaic embellishments include a variety of items: ceramic tiles, glass and wood beads and handmade ceramic forms. These are embedded on the decorative painted surface of the sculpture and worked into patterns. The final piece has been coated with a resin to make it weather proof.
Susanne received her BA in Art Education from Montclair University and her Master's Degree in Art Therapy from Pratt Institute in Brooklyn. Her colorful sculptures have received numerous awards including Best in Show at Phillips Mill in New Hope, PA; Best in Show at the Ellarslie Museum in Trenton; and Best in Show at the National Arts in Newark NJ. Her works are in many private collections both locally and around the world
Susanne also works as an art therapist, where she is helping people to heal through art. She is currently employed at New Jersey State Prison in Trenton, NJ. Through the years, she has worked with adults, geriatrics, children, and people struggling with catastrophic illnesses.
---