Metuchen Junebug ArtFest Introduces 2017 Sculptor:
Dan Fenelon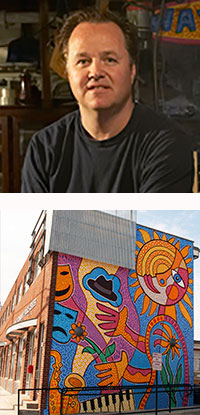 An artist, muralist, illustrator, and graphic designer for more than 20 years, Madison New Jersey-based Dan Fenelon (http://www.wavedog.com) has been selected as this year's Metuchen Junebug ArtFest sculptor and is tasked with the job of putting his own spin on a Junebug for this exciting tri-state area art festival.
Trained at NY's Art Students' League and at Boston's Museum School of Fine Arts, Dan is already hard at work on a large wooden sculpture (8 feet tall x 4 feet wide) that will be painted in his signature vibrant, muralist style. ArtFest visitors will literally be able to stand inside the creation and become a Junebug. The sculpture will be unveiled on Saturday evening June 3rd at 7:00 pm, in front of the Metuchen Savings bank on Main Street.
"I am a long-time advocate of the arts in New Jersey and am thrilled to be chosen as this year's Junebug sculptor," commented Dan. "I love Metuchen and the enthusiasm the town has for the arts. I was very warmly welcomed last year, when I coordinated a Junebug event on behalf of the Montclair Art Museum. I am really looking forward to seeing visitors interact with my creation and supporting New Jersey arts through my participation in the festival this coming June."
The 10th Annual Metuchen Junebug ArtFest will be held every Saturday evening in June (the 3th, 10th, 17th and 24th) from 6:00 - 10:00 pm throughout the streets of downtown Metuchen. The event draws thousands of visitors from the tri-state area and transforms our community into a month-long celebration of the arts.
"Once I found out about all the various kinds of art Dan creates, how many community projects he coordinates and his ongoing work with students, I knew he would be the perfect choice to crate the 10th anniversary sculpture," stated Linda LaStella, Junebug founder and Metuchen-based ceramist. "Dan gets the spirit of Junebug and will be able to translate that into a great piece of sculpture that captures the heart of the ArtFest."
Learn more about Dan and his background
---